The concept
Here's what forms the foundation for everything we do.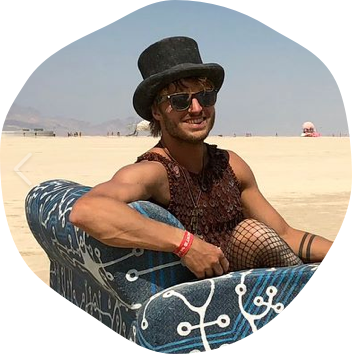 Let's share experiences that help us redefine the rules by which we live.
Mette Koppelaar
Founder of Nibana
Nibana is about authenticity
Nibana's mission is to create shared experiences where we (re)define the rules by which we live and where we can be our most authentic selves. We invite you to experiment and explore. To connect with others and to reflect on your experiences. Nothing is ever expected of you, yet the possibilities are endless.
Everyone is different. And when everyone does exactly what feels right to them in each moment, it creates a wonderful environment. There's so much we can learn from each other. There's so much we can learn about ourselves. Come play and find out what it means to be your most authentic self.
Seven principles to support us
In the process of co-creating Nibana, seven principles were defined. They serve as a foundation for the Nibana culture.
Rules, consent, values, safety & inclusion
We take safety very seriously and have used our co-creating process to create a number of guidelines that help making Nibana a safer space. Most of these guideliness are available for oher organizers to use under a Creative Commons licence:
Who attends?

Nibana is a place where many sorts of people come together. About 250 people per event. Part of our crowd considers themselves to be quite mainstream, while others can relate to keywords such as conscious, hippy, (ecstatic) dance, yoga, tantra, poly, LGBTQ, kinky or many others. Don't relate to any of these? Great! Let's make this list more diverse. Feel a bit unsure about all of this? That's okay. A little bit of curiosity goes a long way. Everyone that's 18+ is more than welcome to participate.

Whether you consider yourself part of a majority or a minority; you are welcome here.

Co-creation

Active participation is a key element of Nibana. Shaping the events together has an amazing effect on the group culture. Everyone contributes in one way or another. Think cutting veggies, tidying the terrain, looking after the wellness or offering a workshop or activity.

The initial creation of Nibana has been happening through a series of around 20 co-creation nights. Co-creation still takes place in many different ways. If you are interested to join our co-creation efforts, let us know!

Back to the beginning

It all started with a brainstorm in the park. We want to acknowledge that some people have commented that this video mentions tantra and kink right at the start. This makes these topics seem more prominent than they're meant to be.