The concept
Our philosophy, the principles and the
co-creation

process.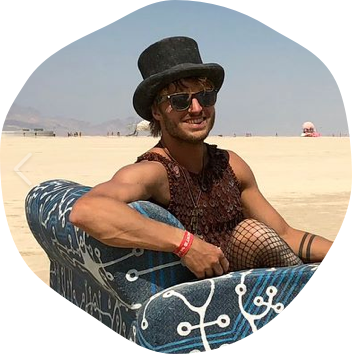 Nibana is like Burning Man's extravagant little sister that isn't on drugs or alcohol.
Sander Koppelaar
Founder of Nibana
Why Nibana?
We believe that we all have the right to play. To express ourselves fully. And that this means something different for everyone. To try different things and to explore different sides of ourselves. To fly, to fall and to feel that both are equally welcome.
Small festival. Big retreat. Micro-burn.
At Nibana we can experiment. It's a week-long festival where most activities happen during the day. We shape the experience together. There are no drugs and alcohol and we live by seven principles to create a safe space where pretty much everything is possible and we can learn about ourselves.
Nibana explained
The seven principles
In the process of co-creating Nibana, seven principles were defined. They serve as an invitation of what life at Nibana might look like.
Rules, consent, safety & inclusion
Freedom requires responsibility. We've used our co-creating process to decide on the terrain guide & rules that define how to navigate the terrain in a respectful way, guidelines for intimate interactions between team members and participants, general consent guidelines to stimulate safe and enjoyable interactions for everyone, team values to support a healthy 'working' environment and a checklist to support team members in creating safe & inclusive spaces.
Who attends?

Nibana is a place where all sorts of people come together. About 300 people per week. Part of our crowd considers themselves to be quite mainstream, while others can relate to keywords such as conscious, hippy, (ecstatic) dance, yoga, tantra, poly, LGBTQ, kinky or many others. Everyone that's 18+ is more than welcome to participate and many ages are represented.

Whether you consider yourself part of the majority or a minority; know that you are welcome here.

Co-creation

Active participation is a key element of Nibana. Shaping the week together like this has an amazing effect on the group culture. During the festival, each participant contributes a two or three hour team shift. Think cutting veggies, tidying the terrain or looking after the sauna. And besides our workshop facilitator team, everyone can offer a workshop or activity.

The creation of the festival is an ongoing process that happens partially through our co-creation nights. These are accessible to everyone, so if you happen to be in The Netherlands, do come by!